Microsoft Dynamics 365 Business Central
Microsoft Dynamics 365 Business Central
Do you need a central all-in-one business management solution that has the ability to connect all your sales, service, operations and financial sectors with one centralized solution? Microsoft Dynamics 365 Business Central is the perfect solution for you offering a streamlined business process with improved customer interactions and enhanced data control enabling you to make better business decisions at all times. Microsoft is a professional software solutions provider and IACXESS has a Gold business partnership with Microsoft that allows us full access to their supreme software solutions that we transfer to our clients in Dubai, Sharjah, Lebanon, Jordan, Kuwait and all parts of KSA.
Microsoft Dynamics 365 Business Central is a choice of professionals and allows for a much boosted control over all your daily business tasks. It combines all Microsoft solutions into one including spreadsheets, presentations or data files enabling enhanced sharing and target oriented control over who sees what and the ability to interact with certain data files across the board for all participants. Microsoft Dynamics 365 Business Central services provided by IACXESS will enable you to:
Have enhanced control over network sharing of business files across all Microsoft domains
Manage your financials, services, sales and operations, all under on dynamic environment
Keep all data safe for designated users with on-site installations and cloud availability
Make better decisions for your business having all required data files in one place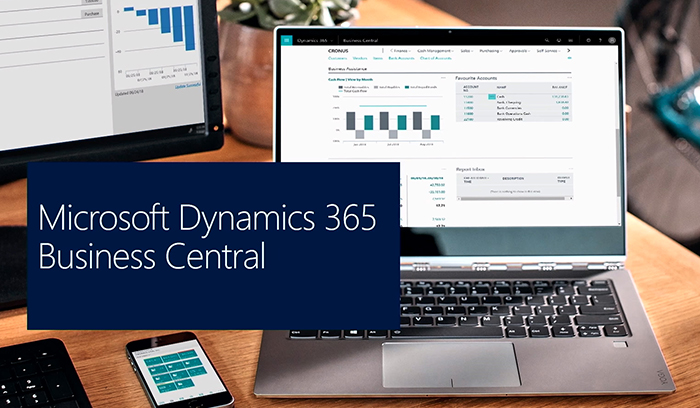 Manage All Business Operations with One Solution
Are you tired of finding all your business data and files scattered across 100 different locations? Why miss out on any important business files, Microsoft Dynamics 365 Business Central enables you to have one designated sharing space for all of them. IACXESS provides full support from Microsoft with their business central software solution. You will be able to place, use, organize and manage all your files at one specified location with the ability to share it with anyone you wish with restricted access for designated personal only. You will never run into a problem of losing any of your important business files with Microsoft Dynamics 365 Business Central software solution.
IAXCESS for Microsoft Dynamics 365 Business Central
IAXCESS has been serving in the Dubai, Sharjah, Lebanon, Jordan, Kuwait and all parts of KSA business market for a very long time. We are the most reliable software solutions providers in the region and our Gold business partnership with Microsoft allows us full control of their Business Central software. We provide integrated Microsoft Dynamics based software solutions in your region and our expert team of skilled individuals are always available for any aftersales services enhancing the experience manifolds. IAXCESS will never let any of your significant business data get lost or misplaced with our one central solution for all needs.
On-Site Setup and Installations for Your Business
Do you own a big business organization in the UAE or KSA region? IAXCESS offers on-site installation service that sets up all your required Microsoft Dynamics 365 Business Central software and other applications on your servers free of charge. Our software experts travel down to your location in the region and assess all hardware and software availability recommending just the right software solution for your business. Whether you need complete on-site setup or you are looking for on-site aftersales services with any other additional service pack installation or new products subscriptions, our local based software house will provide you the most satisfactory solutions at all times.
Contact IAXCESS now with the given information and we will plan the next steps with you in order to provide some of the most advanced Microsoft Dynamics and other software or hardware based solutions for your business.