Localized Payroll
Localized Payroll
Are you a business owner? What are the top few everyday tasks and procedures you go through? Localized Payroll is responsible storing, sorting and presenting all employee data to and from the local servers your business may have. Payroll for employees is something that not only is on the priority list of every small, medium or large business but also needs to be updated on the fly taking care of many different features like:
General Applicable Rules
Timesheet Management
Salary Generation
Additions and Deductions of Incentives or Bonuses
Leaves
Benefits and Accruals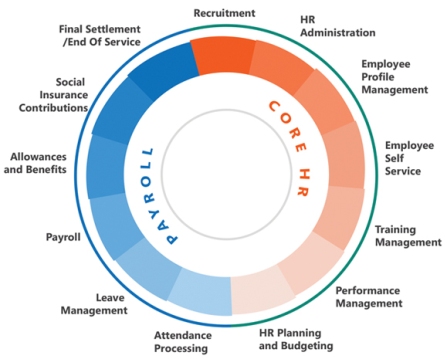 IAxcess's Localized Payroll Management systems have the ability to sort all these out and provide solutions that are majorly helpful for users like businesses or any other organizations. Our integrated systems store all your important and personal data on your local servers from where it is readily available for use anytime. We are a trusted Gold Partner with Microsoft Corporation and have exclusive access to their great software tools helping our clients get the most out of them. We offer the following Microsoft Solutions for your business in Dubai, Sharjah, Lebanon, Jordan, Kuwait and all of the KSA:
Dynamics 365
IAxcess provides high end Microsoft Dynamics 365 ERP systems integration with your Localized Payroll systems that has complete Microsoft Office 365 integration, everyday operations integration on an advanced level keeping track of all salary generating factors and expenses on a daily basis and also can calculate incentives, bonuses, increments or appraisals automatically. The Dynamics 365 software has intelligent coding in it that on a few clicks calculates everything for your business making Localized Payroll management much easier for you.
Dynamics AX
VAT (Value Added Tax) is now a factor in the UAE as well and is a general compensation Tax imposed by the UAE government on everything. The Microsoft Dynamics AX intelligent software provides SME's and Enterprises complete control over VAT and calculates everything on the fly. It is as easy as activating the VAT, setting up Tax Components for Dynamics AX, setting up VAT schedules, setting up sales tax groups for VAT and setting up Tax codes for VAT. This new VAT has become a necessity of business organizations and IAxcess's Microsoft integration sorts out everything for your with high accuracy saving your from much hassle and future headaches.
Dynamics NAV
The Microsoft Dynamics NAV is a complete integrated system that includes integration with Localized Payroll as well. From Financial Management to Warehouse Management, the Dynamics NAV includes everything in between as well including Supply Chain Management, Manufacturing, Distribution, CSR, Sales and Marketing, Service Management, HR Management, Project and Resource Management and also Warehouse Management, all integrated perfectly with Localized Payroll. This system integration is right down to the core allowing all local systems to work together generating a final Payroll analysis that makes the job much easier for managers and bosses in the UAE and all our other functional areas.
Dynamics GP
The Microsoft Dynamics GP is a much smaller but precise software with integrated Finance and Management, Project Management, CSR Management, HR, Supply Chain Management and Manufacturing processes helping Localized Payroll a great deal in making all the calculations. IAxcess provides full support for the Dynamics GP software and its integration with all the other runtime activities generating much reliable Payroll reports that help business organizations in KSA, Kuwait, Dubai, Sharjah, Lebanon and Jordan a great deal.
IAxcess is your one-stop shop for all these great Microsoft services and more. Get your Localized Payroll worries sorted out from our professional services integrating all your local systems efficiently providing peace of mind and reliable business operations.