Thecus

Thecus
If there's one thing every business needs in the modern day, its secure data storage without the hassle of consuming too much on-premises space. This is largely because spaces are shrinking and work is expanding, instead of allocating expensive space to hardware drives, the better solution is to use the space for other assets such as employees or equipment and get cloud storage instead. This is where Thecus shines with their hybrid cloud solutions for important data files of all kinds and types. In Dubai, Sharjah, Lebanon, Jordan, Kuwait and all parts of KSA, IAXCESS are the most reliable software solutions providers and hybrid cloud storage solutions for businesses of all kinds based on the brilliant Thecus solutions are our expertise in the region. Whether you want industrial cloud data storage options or private office Thecus's dynamic volume expansion with scale-out architectures provide you all the space you will need without having to invest in expensive and bulky hardware drives at all. With IAXCESS's perfect cloud storage solutions based on the brilliant Thecus platform, you will get:
Cost Effective, Auto Repair And Potentially Unlimited Storage Capacity For All Your Important Business Files And Data
Built-In Feature Rich Thecusos 7.0 Allowing Access For Many Applications To Help You Navigate Around Easily And Plan Your Move Accordingly
Much Low Power Consumption At All Times With Robust Gigabit Performance
Easy Data Storage Expansion Without There Being Any Interruptions At All Via A Single Disk Or Several NAS Devices
Secure Hybrid Cloud Storage Ensuring Peace Of Mind And Safe Off-Site Data Storage For All Businesses
IAXCESS is your one stop shop in Dubai, Sharjah, Lebanon, Jordan, Kuwait and all parts of KSA when it comes to software solutions and our efficient, fast and reliable cloud data storage serves all the businesses in the region very well by reducing the space allocation required and money needed to be spent on massive hard drive equipment. Whether you have a small one location based business in the region or have a large multi-site business, IAXCESS will provide you just what you need with our expert data storage solutions.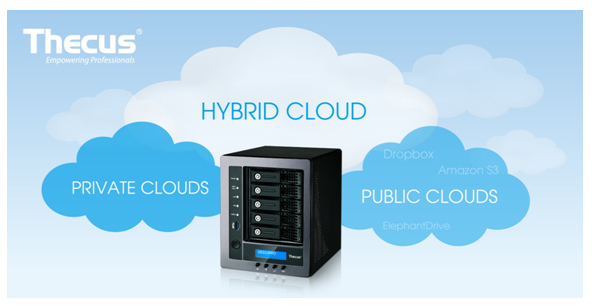 Hybrid Cloud Storage that You Can Trust
Thecus's Hybrid Cloud Storage solution is the most perfect option in the market when you want different types of storage options. IAXCESS in Dubai, Sharjah, Lebanon, Jordan, Kuwait and all parts of KSA provides some of the most reliable and trustworthy storage solutions that eliminate the need for bulky expensive hard drives. Our hybrid cloud storage solutions get you:
Private Cloud Storage – That is based on private accessible storage providing authorized access to the only permitted few individuals or systems
Public Cloud Storage – That includes options like Amazon S3, Dropbox and ElephantDrive and can be accessed anytime, anywhere by anyone
Hybrid Cloud Storage – That combines the two perfectly providing safe and secure personal private data storage an public data storage for all access in one solution
Many cloud storage solutions provide the option for off-premises based data storage but where Thecus shines is their ability to provide trustable data storage. Their hard drives are powerfully backed up and shielded with malware proof solutions that keep your stored data secure and perfect for any time you might need it.
Convenient Services at Your Doorstep
IAXCESS believes in providing convenient cloud storage services in Dubai, Sharjah, Lebanon, Jordan, Kuwait and all parts of KSA. We have become the most reliable cloud storage solutions providers in the region and offer our clients the opportunity to plan their own location based meetings where our experts analyze all our client's needs and requirements. We plan our data storage solutions exactly according to our client's needs, so if you have a small sized business, your installation will be parallel to your specific needs and if you are a large multi-site business anywhere in the region, the efficient cloud storage solution IAXCESS will deliver you, will outstandingly suit your specific needs and requirements. We plan to be the most convenient software solutions providers in the region and will keep on extending our helpful hand to all businesses in our region. Call us now and talk to one of our most friendly and well-informed customer support agents and we will surprise you with the attention to detail that we bring with our software solutions.